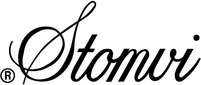 Stomvi Elite D/Eb Trumpet
Code: 100569
The Elite D/Eb trumpet offers a balanced scale in all registers with incredible intonation. Both the D and Eb side of this trumpet provides unmatched playability.
Pay On Finance (subject to status)
To buy this instrument on finance, please add it to the cart and follow the instructions that then follow
Product details
Suitable for
The Stomvi Elite D/Eb trumpet is a professional level instrument similar in design to the Schilke E3L Eb/D trumpet, it comes with separate bells for D & Eb, & a set of valve slides for each key.
Unique benefits
Monel piston valves
Medium Bore
Amado style waterkey
Made in Spain
Supplied with
The Stomvi Elite D/Eb is supplied with a case.
About the maker
Stomvi is a leading player in the musical instrument industry. Stomvi instruments are renowned for their exceptional build quality, reliability and manufacturing precision and consistency.
Specification
Model: Elite
Key: D/Eb
Bell: Yellow brass
Valves: Piston 3
Bore: M Bore: .450" (11.43mm)
Water Key: Armado 1
Body: Brass
Finish: Silver Plated
Lyre Box: No
Mouthpiece: None