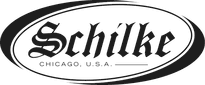 Schilke E3LB D/Eb Trumpet
Code: 100895
A beryllium bell version of the classic Schilke E3LB D/Eb.
More details
Product details
The E3L has been the benchmark for comparison for virtually all other Eb trumpets in the marketplace.The tuning bell construction helps provide a balanced resistance and outstanding pitch. This instrument is the favoured choice of nearly every major orchestral musician and soloist in the world today.

All Schilke instruments are supplied in a John Packer JP851 Pro Double Trumpet Case. Please note Schilke Instruments are not supplied with a mouthpiece.
Specification
Three Valve Eb/D Tuning Bell Trumpet w/"D" Bell and slides
Bore: M -.450" (11.42 mm)
Bell: M- 4.5" (114.30 mm) Beryillium Bell with #4 taper in the key of "Eb"
4.5" (114.30 mm) Beryllium Bell with #4 taper in the key of "D"
Supplied with JP Pro Double Trumpet case