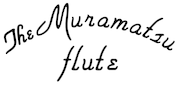 Code: 100790
Muramatsu flutes have always enjoyed a position at the top end of the aspirational list due to their responsiveness, tonal fluidity and dynamic range.
Pay On Finance (subject to status)
To buy this instrument on finance, please add it to the cart and follow the instructions that then follow
Product details
Suitable for
The GX model has the warm and mellow sound of a handmade flute. This is an all solid flute except for the silver plated German silver key mechanism. This instrument will thrill those who have the opportunity to experience it. Yet, the price of this model is less than other professional flutes that do not offer the high quality and impeccable construction standards exemplified in all Muramatsu flutes.
Since the first Muramatsu Flute was created in 1923 by the late Koichi Muramatsu, thousands of artists throughout the world have chosen Muramatsu over all other makes. The inspiration given to Osamu Muramatsu by his father is felt by the staff, who are instrumental in making the worlds finest Flute. The research department constantly seeks to improve the instrument and their endless efforts are creating the unique Muramatsu sound prized by artists in every part of the world. Extensive technical research in the Muramatsu laboratory has led to the development of the amazingly accurate Muramatsu scale, acclaimed as the finest. Today the factory carries on the same tradition of excellence in flute-making, under the direction of his son, Osamu Muramatsu. Every flute that bears the Muramatsu name is built with the care and precision that has earned Muramatsu its reputation as one of the world's finest professional flutes. Today Muramatsu sells more professional model flutes worldwide than any other flute maker

Unique benefits
Handmade .925 Sterling Silver Headjoint, Lip Plate and Riser
.925 Sterling silver body
Silver-plated keywork mechanism
French-style pointed key arms: For accuracy and longevity in the key action
C Foot
Split E mechanism
Offset G
Available with open (GX-RCE) or closed holes (GX-CCE)
Supplied with
The Muramatsu GX series flutes are supplied in a deluxe hard case with cleaning accessories, a wooden cleaning rod, gauze cloth and polishing cloth.
Specification
Model: GX-CCE
Key: C
Headjoint: Solid Silver
Lip Plate: Solid Silver
Body: Solid Silver
Foot Joint: C
Tone Holes: Extruded
Keywork: Closed Hole
Offset G: Yes
E Mechanism: Split E
Arms: French (Pointed)