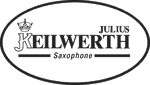 Keilwerth SX90R 2401 Eb Alto Saxophone - Shadow Black Nickel
Code: 101101
Capable of a fully professional level of performance. High F#. Set up in our own workshops.
Pay On Finance (subject to status)
To buy this instrument on finance, please add it to the cart and follow the instructions that then follow
Product details
Suitable for
The SX90R Shadow saxophone pushes the limits of design and performance.
The body is made of German nickel silver that resonates strongly and responds quickly to the players demands. Black nickel plating coats the body adding depth to the well centered and powerful sound.
The inner bell and key work are silver plated to highlight the extensive hand engraving for a vibrant and dazzling appearance.
From the small, intimate club to a concert arena for thousands of fans, the SX90R Shadow saxophone lets the player take control and offers limitless potential for expression and sound.
Unique benefits
Mother of pearl touchpieces
Material: Nickel Silver with black nickel coating
Adjustable palm keys & thumb rest
Black leather Pisoni pads
Metal resonators
Beautiful hand engraving
Drawn tone holes with hand soldered rings
Made in Germany
Supplied with
The Keilwerth SX90R 'Shadow' is supplied in a hard shaped case with shoulder strap. It comes complete with a Keilwerth ebonite mouthpiece, single screw ligautre and cap along with cleaning accessories.
Specification
Model: SX90R Shadow
Key: Eb
Material: German Nickel Silver
Keywork: Silver Plated
Mechanism: Full Keywork
Finish: Black Nickel Plating
Mouthpiece: Keilwerth Ebonite
Sling: Yes