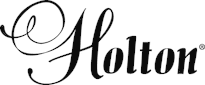 Holton TR181 Bb/F/Gb/D,G/Eb Bass Trombone Lacquer
Product details
Suitable for
This instrument has the reputation of having established the true bass trombone sound. The red brass bell has been styled to maintain a consistent, warm timbre at low and high dynamic levels. The G/Gb attachment can be reconfigured to the player's taste for setting up low C and B natural when desired. The bore design assures proper reinforcement of the lower partials. It is one of the most sought-after bass trombones on the market; try it and you'll see why!

Equally suited and popular for brass band, wind band and orchestral playing.
Unique benefits
Key of Bb
0.562" bore
10" diameter hand-hammered red brass bell with wire-reinforced rim
In-line independent dual trigger rotor mechanism with ball and socket linkage
Traditional wrap with F tuning and G/Gb slide
One-piece precision-machined tapered rotor and bearings for a smooth, airtight fit
Nickel silver outside tuning slide and brass inside slide with brass bow
Tubular nickel silver braces
Chrome-plated nickel silver hand slide with seamless inner slide and integral chamfered stocking
Nickel silver outside slide
Chrome plated hand grip
Nickel silver water key
Clear baked epoxy lacquer finish
Supplied with
Supplied with 1 1/2G mouthpiece and deluxe wood shell case
About the maker
Frank Holton opened his small shop selling second hand instruments and his own secret recipe of Electric Oil trombone slide oil, in Chicago in 1896.
By 1898 he was able to hire an instrument maker to produce his "Holton Special" trombone. By 1904 he was selling trombones, cornets, valve trombones and mellophones.
In 1914 Holton's instruments were being played by many professional artists, including Vincent Bach at the 1914 Boston Symphony.
By 1917 an agreement was made to build a factory in the city of Elkhorn, Winconsin.
1929 and Holton introduced a complete line of school grade instruments under the Holton Collegiate name.
Frank Holton sold the company in 1939 to Fred Kull, a company employee.
Sadly in 1942 Frank passed away. During World War II, the Holton company concentrated on war production. But after the war, the company saw steady growth.
1964 saw the company being sold to the G. Leblanc Corporation due to the pressure to offer a complete range of woodwind instruments.
Under Leblanc's ownership, Holton would become a leader in low brass manufacturing. Supported by well known artists such as Philip Farkas and Ethel Merker, Holton's French Horns became increasingly popular.
In 2008, production was moved from Elkhorn to Eastlake, Ohio.
Specification
Model: TR181
Key: Bb/F/Eb/G + Bb/F/D/Gb
Bell Size: Rose Brass 254mm (10")
Valves: Rotary 2
Bore: Large 14.27mm (.562")
Water Key: Lever 1
Body: Yellow Brass
Finish: Lacquer
Lyre Box: No
Mouthpiece: 1 1/2G Mouthpiece