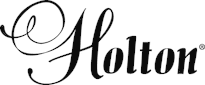 Holton Farkas H181 Bb/F Double French Horn
Pay On Finance (subject to status)
To buy this instrument on finance, please add it to the cart and follow the instructions that then follow
Product details
Model H181 features a bronze bell that produces a darker sound. Capable of a wide range of dynamics, it can be played loud without a brassy edge to the sound. This professional level Bb/F double French Horn comes in a Kruspe style wrap with .468 bore, large throat, bronze bell and strung valves.
Suitable for
The Holton H181 Farkas Double French Horn features a bronze bell that produces a rich, dark tonal colour and has a Krüspe wrap.
Unique benefits
Bronze Bell
String lever action
Large throat hand hammered bell
Supplied with
The H181 is supplied with a good all round Farkus mouthpiece, cleaning accessories and a hard case.
About the maker
Holton is a leading player in the musical instrument industry and are renowned for their exceptional build quality, reliability and manufacturing precision and consistency.
Specification
Model: H181
Key: Bb/F
Bell Size: Bronze Fixed 12.25" (311mm)
Valves: Rotary 4
Bore: .468" (11.89mm)
Water Key: Lever 1
Body: Yellow Brass
Finish: Lacquer
Lyre Box: No
Mouthpiece: Farkus