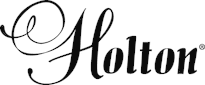 Holton Farkas H178 Bb/F Double French Horn
Code: 100100
Bright, compact feel and sound with outstanding tonal beauty.
Product details
Suitable for
The Holton H178 Double French Horn has a compact feel and a bright sound with outstanding tonal beauty from the yellow brass material and medium throat bell.
Unique benefits
String lever action
Medium throated hand hammered bell
Supplied with
The H178 is supplied with a good all round Farkus mouthpiece, cleaning accessories and a hard case.
About the maker
Holton is a leading player in the musical instrument industry and are renowned for their exceptional build quality, reliability and manufacturing precision and consistency.
Specification
Model: H178
Key: Bb/F
Bell Size: Fixed 12.25" (311mm)
Valves: Rotary 4
Bore: .468" (11.89mm)
Water Key: Lever 1
Body: Yellow Brass
Finish: Lacquer
Lyre Box: No
Mouthpiece: Farkus