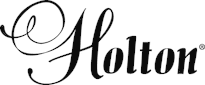 Holton Farkas H177 Bb/F Double French Horn
Code: 100099
A versatile horn quite appropriate for high school and college marching band and orchestral performance.
Product details
Suitable for
The Holton H177 Farkas Double French Horn offers a compact feel and a bright sound which is suitable for orchestra and wind band.
Unique benefits
String lever action
Medium throated hand hammered bell
Supplied with
The H177 is supplied with a good all round Farkus mouthpiece, cleaning accessories and a hard case.
About the maker
Holton is a leading player in the musical instrument industry and are renowned for their exceptional build quality, reliability and manufacturing precision and consistency.

Specification
Model: H177
Key: Bb/F
Bell Size: Fixed 12.25" (311mm)
Valves: Rotary 4
Bore: .468" (11.89mm)
Water Key: Lever 1
Body: Yellow Brass
Finish: Nickel silver
Lyre Box: No
Mouthpiece: Farkus