Yamaha Reveal First Digital Saxophone
We're living in the digital world, so should we be surprised that instruments were heading that direction?
We've obviously been quite accustomed to keyboards and digital pianos since the 80s, and in recent years, manufacturers like Yamaha have been keen to bridge the obvious gap between something that requires a plug to generate a sound, and human touch or breath. They have developed an impressive hybrid piano and now - in time for the Christmas market - have a new instrument to their arsenal!
The YDS-150 is Yamaha's first digital saxophone. Don't let all the buttons fools you into thinking it will do all the hard work for you. It still very much needs the instrumentalist to have good breath control, and be familiar with saxophone fingering. Beyond that it's all about fun and being creative. You can blow down the instrument and pick the instrument you wish to hear; choose any of the saxophone family in the style you want, or pick from nine other wind instruments.
You can charge it up and take it wherever you want. You can even plug it into headphones and play it silently!
There's a myriad of different things you can do - and with an app accompanying it too, obviously that list of things will become ever larger. If you're a budding composer but can't get your band together, you can play and record all your parts!
Want to know more? Read on... or Buy NOW!>
INTEGRATED BELL ACOUSTIC SYSTEM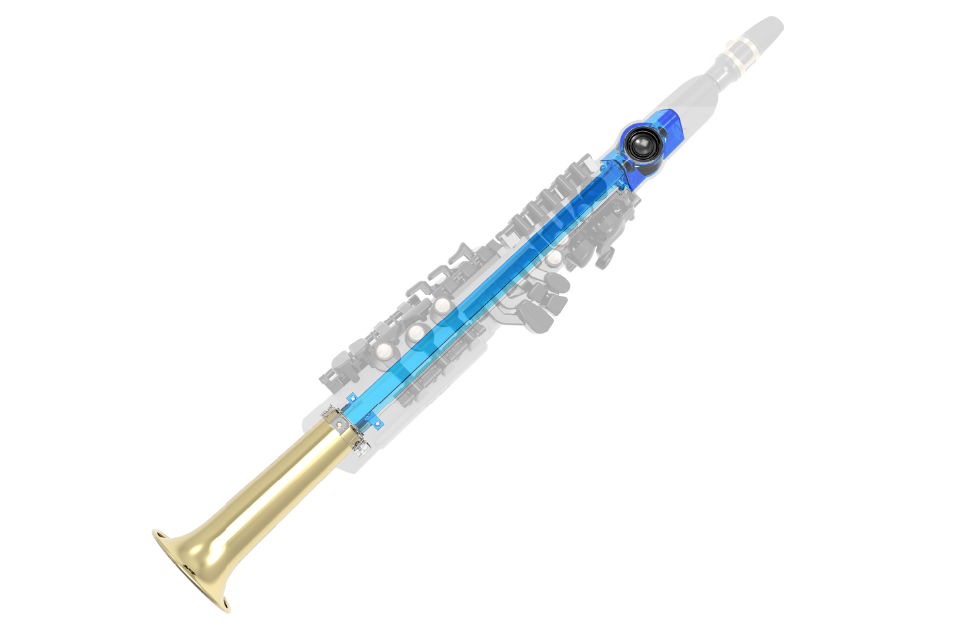 Yamaha's unique Integrated Bell Acoustic System gives you the best of both worlds—high-quality digital sound with the full expressiveness of an acoustic wind instrument. This new, advanced system, consists of speaker units, enclosures, acoustic pipe and a real brass bell, responds to your breath from the mouthpiece, and digitally creates sound that drives the speakers, causing the brass bell to resonate and vibrate. In fact, the entire instrument resonates with the sound, and that vibration comes back to you—to your mouth from the mouthpiece and to your fingertips from the keys. The result is an instrument that breathes, moves and vibrates along with your playing, giving you all the expressive feeling of an acoustic saxophone with the comprehensive capabilities of a digital instrument.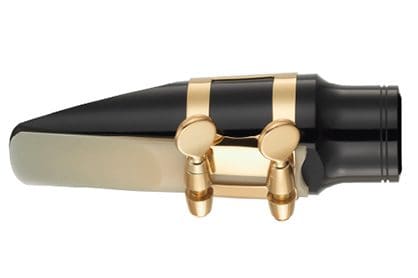 MOUTHPIECE
In order to enable the most naturally expressive and comfortable playability, the YDS-150 features a mouthpiece designed the same as that of an acoustic saxophone. It can also be conveniently removed for easy maintenance.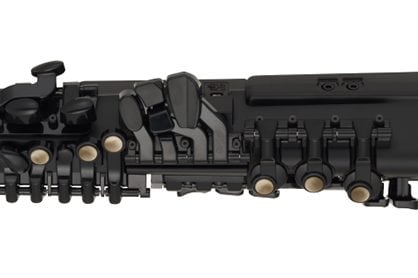 KEY LAYOUT
The key layout of the saxophone is essential for playability and feel, and the YDS-150 has been designed based on Yamaha's flagship model of acoustic saxophone for the most natural playability and smoothest feel. In addition, you can use the dedicated app to change the fingering and customize it to your own needs.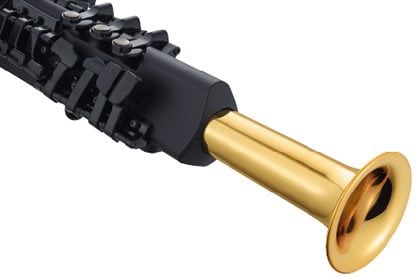 BRASS BELL
The high-quality brass bell is made of the same material as used on Yamaha's acoustic saxophone. Drawing on our extensive know-how and experience of making acoustic instruments, we designed this bell to gorgeously reproduce the long reverberation peculiar to wind instruments as well as the delicate sonic nuances sounds when playing pianissimo. Moreover, the authentic resonance causes the entire instrument to vibrate, and lets you truly feel the music as you play it.
TRANSFORM YOUR BREATH INTO A WIDE VARIETY OF SOUNDS

BREATH SENSOR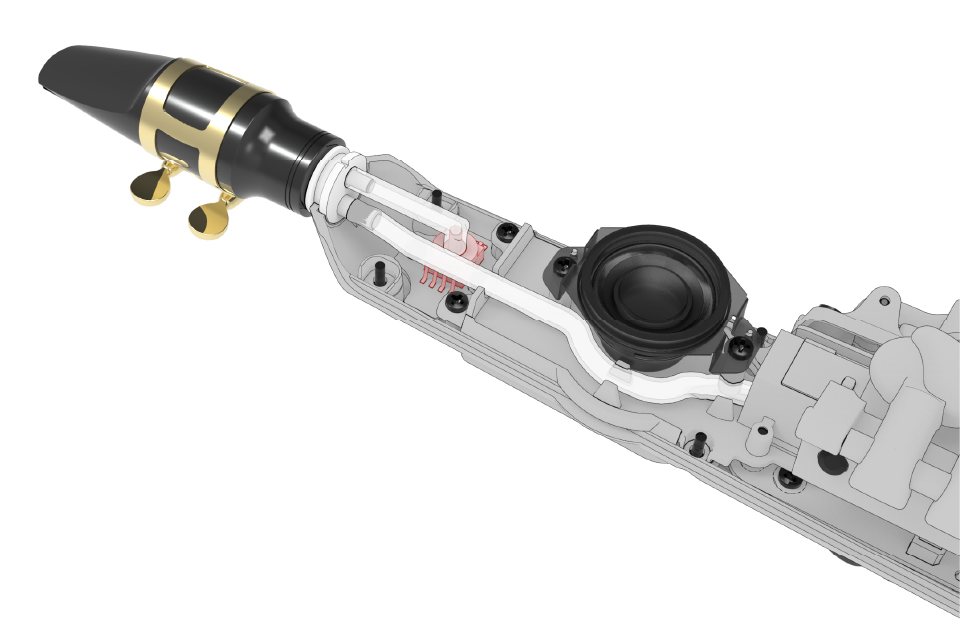 Simply by blowing into the mouthpiece and playing the keys with correct fingering, you can produce a perfect acoustic saxophone sound—like a professional player—without having a perfect embouchure (mouth shape). The YDS-150 has a breath sensor that detects the intensity or pressure of your blowing, letting you minutely control not only the volume of the sound but also the tone.
WHOLE-TONE SAMPLING OF PROFESSIONAL PLAYERS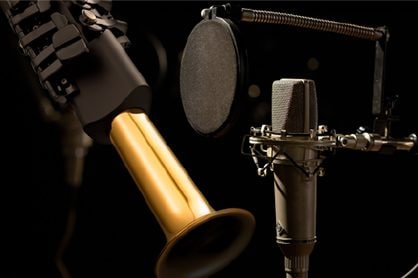 The YDS-150 uses sampled sounds of Yamaha's acoustic saxophones—soprano, alto, tenor and baritone—meticulously recorded in whole tones with professional players, letting you fully enjoy performing without any unnatural sound.
AUTHENTIC SAXOPHONE TONE IN 4 TYPES, 56 PRESETS—COVERING ALL MUSICAL GENRES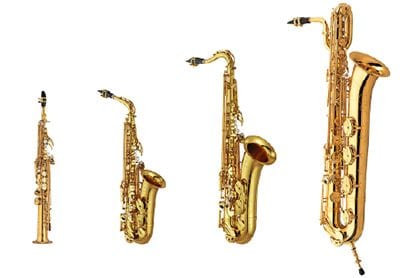 The YDS-150 lets you instantly change the tonality, range, and timbre of each of the saxophone types—soprano, alto, tenor or baritone. Moreover, each of these saxophone types have different saxophone Voices that correspond to various playing techniques and musical genres, from vibrato playing and jazz to classical music. In total, the YDS-150 has 73 instrument sounds, with 56 saxophone Voices, and many other instrument sounds—including electronic instruments, as well as acoustic wind instruments such as shakuhachi, Irish pipe, and more—letting you perform authentically in virtually any music genre.

OTHER FEATURES
EXTERNAL CONNECTION TERMINALS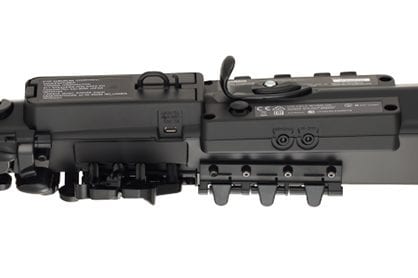 Equipped with an Aux in terminal for connecting with other devices, such as smartphones and audio players. You can jam along with music on an external source* or play along with other musicians. * Only available when using headphones or outputting from the headphones terminal.
DEDICATED CASE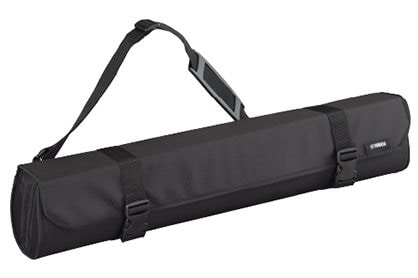 Comes with a soft case that lets you easily carry the instrument over your shoulder.