Thinking about upgrading your student oboe?
The familiar quacking tone is a distant memory and you've perhaps even done a few grades, so what next?

The oboe is a difficult instrument to master, so once you've established a solid stable tone you really do need to give yourself a pat on the back. This is when the fun and joy of playing the oboe really starts.

A lot of beginners these days learn on instruments like our JP081 or JP181 which have synthetic bodies; this makes them easier to maintain and potentially lighter to learn on. However good these are, when you get to post Grade 5 to get the very best tone, there really isn't anything better than having a wooden instrument.

Popular upgrade models have for years belonged to the Howarth of London brand of oboes. Which you go for can depend on your future musical intentions.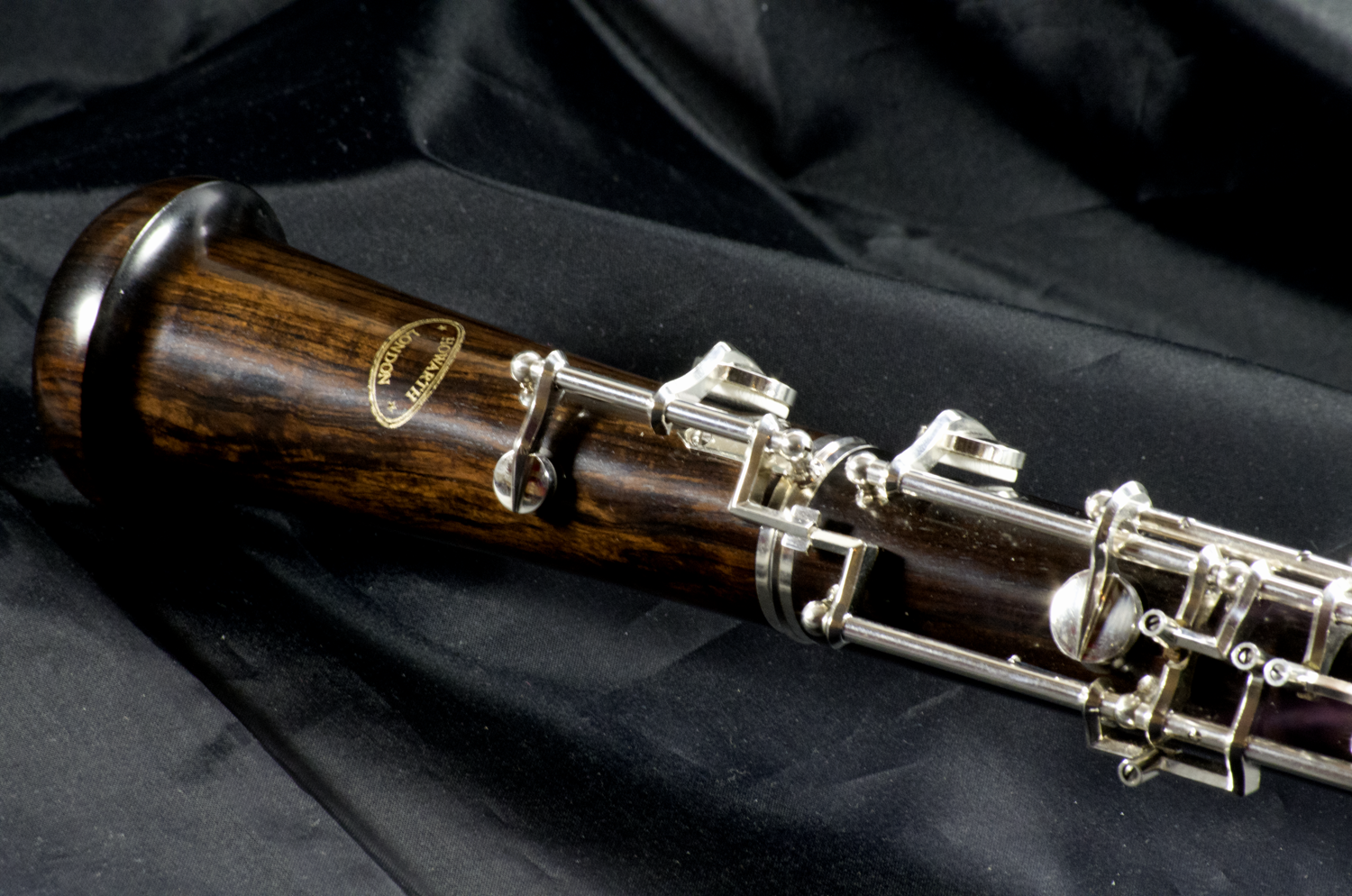 For instance if you're working up to Grade 8 and playing at an amateur level, or perhaps are younger, not looking to study music at a college level, the Howarth S20 model is a great lightweight oboe to consider. Many varieties come up secondhand, (such as dual system, with Left hand F's, S25s which have thicker bodies are rare gems too), but these days the S20 models from Howarth are simply thumbplate or conservatoire, and make an easy progression from simple student oboes.

S20 Technical Specification:

Thumbplate System
Semi-Automatic Octaves
C-D Trill Key (X 2)
C-C# Trill Key
Forked F vent
Low B-C Link
Low Bb vent
Additional Adjusting Screws
If you're moving on from the JP181 oboe, the Howarth S20 can see a backward step keywork-wise, however. The JP181 has quite advanced keywork - like a left hand F, which the S20 doesn't.
The Howarth S40 and S45 oboes have a great deal more keywork and offer playing ability at a much higher level.
Howarth class these oboes as their Graduate models; designed for the diploma level player which includes many essential features found on a professional oboe. The Howarth S40 at just over 640g, remains comparatively light in weight and is therefore suitable for accomplished young musicians. The S45 has the same keywork, but a much thicker body which gives the instrument a deeper tone.

S40/45 Technical Specification:
Dual System (Conservatoire with thumbplate)
Semi-Automatic Octaves
3rd Octave Key
C-D Trill Key (X 2)
C-C# Trill Key
Forked F vent
Low B-C Link
Extra trill mechanisms (Ab-Bb, Ab-A)
"Banana Key" - low C-C# trill
Low Bb vent
Additional Adjusting Screws
Howarth are hugely popular and their oboes do have a recognisable sound to them. If you fancy something different, there are other very good makes you can consider. One other brand we stock at John Packer is Fossati. These instruments are very competitively priced and offer a very viable alternative to Howarth fare.
At not much more than the Howarth S20, the Fossati J40 offers a little more than the Howarth S20; notably dual system, with a 3rd octave and left-F key.




And for a good bit less than the S40, the Fossti E40 oboe matches the keywork spec of Howarth's Graduate models quite convincingly.

The significant change with all new oboes, is the increased bore size which needs a good deal more puff. Like when you started the oboe it can take a good few months to be able to control your breathing and get the most out of the instrument, so this needs to be born in mind when you're trying any step-up oboe - you may not sound immediately better! The best way to trial and work up to a new instrument is with long note practice; it really is like fitness training to be able to support the breath.

Much care also needs to be taken to blow them in gradually to prevent the wood from cracking. This means shorter practice sessions for a limited time until the instrument has acclimatised to the moisture from players' breath. It is also common for players to experience stiff joints as the instrument swells slightly. In these cases, the instrument's tenons may require adjustment which should be carried out by a professional instrument repairer.

Wooden instruments will also be more sensitive to heat and temperature changes. Rapid changes can lead to cracks in the body. This can be caused by accidently leaving your instrument near a radiator or somewhere similar.
---

Are you interested in upgrading your oboe? Contact our woodwind department on 01823 282386 or send an enquiry via our contact form.