Relearning an instrument
Forced isolation has led to a surge in people turning to the arts to remedy the solace. Whether it's been starting something new or re-discovering a previous pastime, with an undetermined amount of time at home one retired Devon resident has taken the opportunity to return to the clarinet which sparks memories of jazz clubs in her youth.
Jennie, 75, lives in Devon, a retired teacher, she learned piano as a teenager up to grade 5 and dallied with the guitar when she was at college. However back when she was at college in Coventry she spent many an evening visiting Jazz clubs where she fell in love with the sound of the clarinet...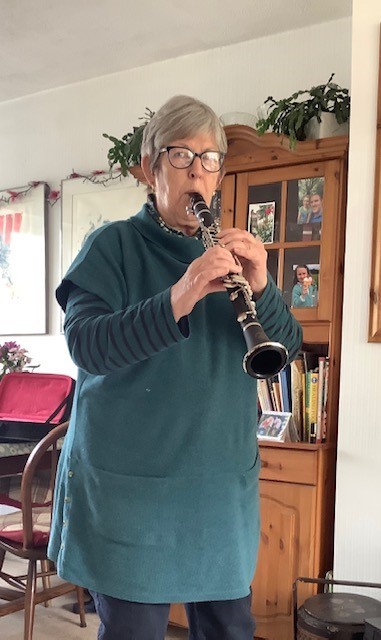 "I guess my interest in the clarinet goes back to college days in Coventry. We used to visit jazz clubs and I just loved the sound. I had learned piano to grade 5 as a teenager then at college took up guitar as it suited singing with young children - more eye contact than piano. I was never one of those who could play without music.
"Years passed, teaching, family etc I never thought more about it until my last appointment in the late 90s when I wanted an instrument to encourage my boys as they were not keen on recorder. I had the chance to introduce the Lyons C clarinet as a parent was a tutor. I started to learn as encouragement but needless to say with commitments, didn't do much practise! I had a horse as well at the time.

"Moving on to early 2000s after a riding accident and hip op I retired, took up painting and crafts for a while then worked as cook and activity coordinator in a friend's retirement home. More hip and knee ops later, at 70 I retired again, caring for my mum until she died three years ago.

In Jennie's second retirement she seized the opportunity to travel and enjoy the arts; be it painting, or quilting. "I'm a bit of a 'want to do everything' person", Jennie confesses.
A retirement confined to the home was unexpected for Jennie. "I guess the memories of wanting to play clarinet came back to me with enforced isolation - for weeks/months - so I just decided if not now, when?"

Newly inspired Jennie bought a JP124 Clarinet - a C clarinet like the Lyons one she played all those years ago. With a book on its way, Jennie has started wisely with a simple scale and getting used to reading music again.

And what's the dream piece Jennie would like to master? Something that takes her back to her jazz club days
"Summertime comes to mind as one I'd like to play. Bit of a cliche but..."
---
Have you taken up a new instrument while in isolation? Share your story. Email [email protected] with your story and a picture.