New Eco products from Edgware
We're all too aware how our buying and lifestyle choices can impact the global environment. Many of us are keen to change our habits. However, while we cherish our instruments, for musicians it's hard to make better choices on essential accessories like oils and greases without there being a company producing viable alternative products.
Step in Edgware from The British Band Instrument Company (BBICO) and their accessory range for brass and woodwind! This unique range is:
designed and packaged in the UK
free of toxins and petroleum
packaged in biodegradable, compostable and recyclable packaging

Their natural range of non-toxic products are a credible alternative to current industry standards which often contain petroleum, mineral and synthetic-based oils. Not only are these potentially environmentally damaging, they are also unsafe for unsupervised use by children.
Sounds good! So what's in the range?
Oils
Edgware oils are made in the UK from natural plant-based oils, meaning that they are non-toxic, non-petroleum and non-synthetic.
The regular valve oil and rotary valve/key oil are lightweight, long lasting, and made from food grade ingredients – you could technically drink them if you wanted to, but we wouldn't personally recommend it!
The vintage valve oil is smooth and more viscous, in order to better lubricate the valves of older instruments.
The bore oil for wooden instruments is made here in the UK from pure flower oils, including lavender grown in England. The hydrophillic properties of these oils allow the wood of clarinets, oboes and bagpipes to breathe whilst moisturising the fibres. This bore oil inhibits cracking and warping, whilst improving the tone of the instrument over time.
In addition, all of the oils are supplied with a directional applicator to reduce waste and save money.

Rotary Valve/Key Oil - £9.23 per bottle


Vintage Valve Oil - £9.23 per bottle


Regular Valve Oil - £9.23 per bottle

Greases
Edgware's cork grease is handmade in the UK from 100% natural ingredients. It is non-toxic, non-petroleum and non-synthetic. In fact, before taking this product to The NAMM Show in January, Edgware staff were using this item as a lip balm in the office!
(no more having to warn young woodwind pupils not to put their cork grease anywhere near their mouths!)
There are slide grease, cork grease and even vegan cork grease availabe!
Sprays
Edgware's UK-made sanitiser spray is a revolutionary 100% natural sanitiser that kills 99.99% of all germs in 12 seconds. It's anti-bacterial properties are provided by hypochlorous acid which is produced naturally in the human body. It is skin safe and safe to be used by children without adult supervision as it's alcohol, fragrance & harmful chemical-free, as well as harmless if swallowed!
The UK-made trombone water is laboratory grade UV filtered water with an inbuilt corrosion inhibitor. It has been developed to greatly improve the effectiveness of slide greases. This in turn increases slide speed and prevents corrosion & limescale build up.
Sanitiser Spray - £13.74 per bottle

Trombone Water - £10.40 per bottle

Soaks
Edgware's brass soak is a uniquely formulated suitable for all brass instruments. The formula attacks the bio-film build-up within pipes, de-greases valves and slides, and freshens with a clean citrus fragrance. This formula is safe for all forms of plating and lacquer finishes due to it's neutral PH. It also features an anti-static agent which aids water repellence, making the next clean even easier!
Edgware Brass Soak - £28.67
Brushes
Edgware brushes feature a coating to prevent the scratching of mouthpieces and valves. Built to last, they believe their brushes are the highest quality on the market currently. In so, hope they will greatly reduce the number of brushes used and discarded by wind musicians over the course of their playing careers. These are the only items in the range that are made outside of the UK, but they are currently exploring alternatives. Edgware say they don't want to sacrifice the superior quality of the products they currently have.
Edgware Brushes - from £4.31 per brush
Cloths
All edgware by BBICO cloths are made in the UK from 100% cotton.
The care cloth is made from 100% untreated cotton, which is lint free, and 'good as new' when washed. Ideal for all instruments, this cloth is super soft, and will gently clean the surface of any instrument.
The polishing cloth was originally designed for the most delicate of jewellery, so will polish up your instrument beautifully. The chemical solution impregnated into the cloth removes grease and grime. The cloth is also skin-safe, and leaves an anti-tarnish coating behind to prolong your polishing efforts!
Edgware Cloths - £5.84 for the polishing cloth, £7.93 for the care cloth
Or course you can go to all this trouble to produce an environmental and skin safe range without reviewing the packaging. Here Edgware has kept to its ethos.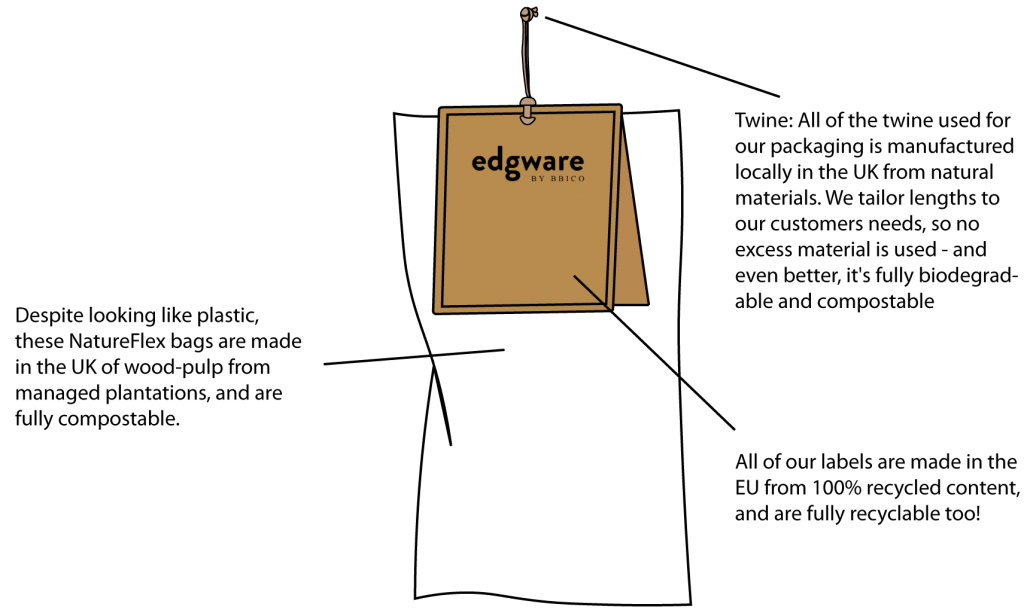 ---
Will you make the switch? We're realy excited by these products. Browse them all here!