Music the winner in Taunton Deane Business Awards
The shortlist for the Creative Industries Award was announced at the end of April and John Packer made the shortlist alongside the Centre for Young Musicians Taunton (CYMT: a Saturday morning music school, which is a division of the Guildhall School) and Rocket and Bird (a gift shop which sells local artists' wares).

All three businesses made presentations to a panel of judges in June. After a celebratory meal held at the Cricket Ground on a warm summer's evening, Rachael Parvin, the Director of CYMT collected the winning trophy.

Rachael said: "The CYMT team were very happy to be Creative Industries finalists alongside JP and Rocket & Bird and we had such a surprise when we were announced as the winner. We are delighted to have won and the award is testament to the excellent work achieved by all involved in CYMT since the Centre opened 5 years ago: students, parents/carers, staff, Guildhall School, host venues Richard Huish College and Hestercombe Gardens, and other key stakeholders such as Somerset Music Education Hub and Actiontrack Performance Co.

"We will continue to build on this success and the award will go a long way to helping our development. Next stop, end of term fun on 13 July and the exciting summer holiday course for music & drama on 12 to 16 August at Richard Huish College."

John Packer Sales and Marketing Director, Rob Hanson said: "As previous winners in the Taunton Deane Business Awards, John Packer are happy runners up; especially coming second to CYMT - a company with which we work with regularly. Our service to the local community helps provide instruments to musicians and teachers to CYMT, and similarly their centre provides many musical opportunities for children in the South West."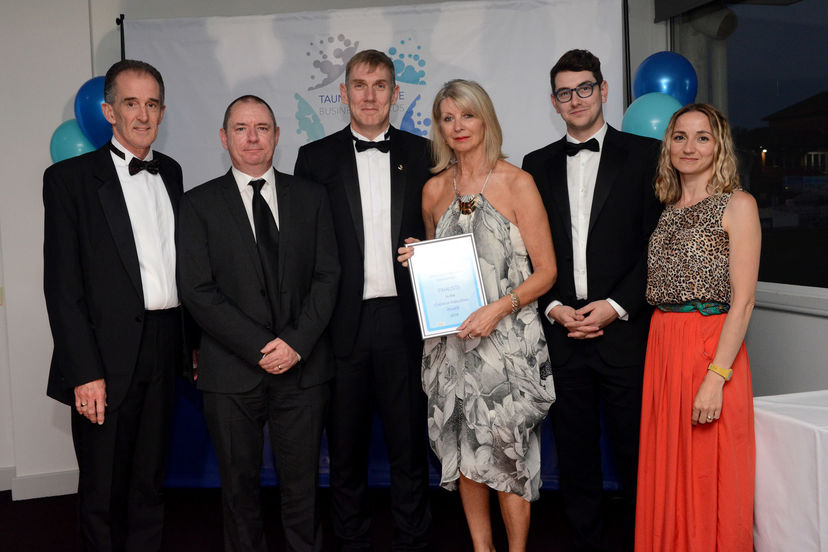 PHOTO (from left): TDBA representative, John Packer staff; Stuart Fowle, Rob Hanson, Annie Gardner, Tom Francombe and Jean Broadbent.
---
---