Better plastic instruments to buy this Christmas
Christmas is typically when we're bombarded with un-environmentally friendly plastic products. Now more than ever we should be taking more time to consider our purchases, and the behaviour of manufacturers.
One of the biggest and most visually arresting manufacturers of 'plastic instruments' is Warwick Music. In 2020, the company - which makes their pInstruments from ABS plastic - were certified carbon neutral.
The company's jolly instruments can be divisive, but their enthusiasm and bold company ethos has done much to boost the number of brass musicians worldwide.The instruments play exceptionally well and are very easy to clean and maintain; a key consideration in these times.
Here's some of our favourite products...

pBone Bb Trombone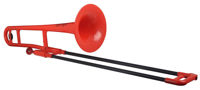 Robust and hassle-free beginner trombone. Lighter than a traditional brass trombone, making it much more comfortable for children.
Available in rainbow of colours: green, blue, orange, pink, yellow, white and black.
Only £119!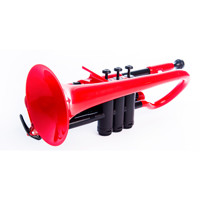 Getting started in music has never been easier with the pCornet. Loved by all ages of players for its durability and comfortable design, the pCornet has opened up the world of brass to a whole new group of players.
Incredible value at only £79!
hyTech pTrumpet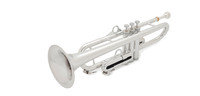 At first glance you'd think this a traditional metal trumpet, you'd be mistaken. This is a hybrid instrument from pInstruments that combines stainless steel with ABS. The hyTech is designed as step-up to the pTrumpet model. Improving players will appreciate how free-blowing the trumpet it is and enjoy the lightness of the instrument, compared to traditional mid-range trumpets.
Like other instruments in the pInstruments range, the hyTech comes in a variety of finishes. Being more conservative it is available in gold, silver and black.
Only £199