The flute is a great choice for new players of all ages. It shares many of the benefits of the clarinet, surpassing it in some areas. It is a great choice for younger players as a curved headjoint allows players to start playing earlier. It is very lightweight and portable making it perfect for trips to and from school. The flute has wide application across a range of repertoire and settings and is commonly found in orchestras, windbands and jazz ensembles.

View our student flutes
---
Contents
Types of flutes
Tips for younger players
Features
Headjoint
Keywork
Footjoint
Material
Recommended accessories
Popular Student Flutes
Hire & Assisted Instrument Purchase SchemesAny Questions?
---
| | | | |
| --- | --- | --- | --- |
| Type | Key | Application | Other comments |
| Concert Flute | C | Solo, Orchestra, Windband, Jazz, Flute Ensemble | Strongly recommended for new flute players. |
| Alto Flute | G | Orchestra, Windband, Jazz, Flute Ensemble | Tends to be learnt as a second instrument once proficient with concert flute |
| Bass Flute | C | Orchestra, Windband, Jazz, Flute Ensemble | Tends to be learnt as a second instrument once proficient with concert flute |
---
The flute is a great choice for younger players. It is much lighter when compared to other woodwind and brass instruments and has a small number of parts reducing the chance of damage when putting it together. As with any instrument, it is vital that any new player is comfortable and capable of holding their flute in the correct position with a good posture. In the case of the flute, an important factor is arm length of the player so that keywork is easily reached. If players are keen to start playing at an early age a number of options are available.
Curved Headjoint
Purchasing a flute with a curved headjoint is a great way to enable younger players to start learning earlier. Some models, like the JP011CH, are supplied with both a curved and straight headjoint so that once the player has grown, the headjoint can simply be switched over to the straight version. The curved headjoint reduces the length of the flute so that players with shorter arms are able to reach all the keywork. Curved headjoint models are available from a range of respected makers including Trevor James, Jupiter and John Packer.
Reduced Keywork
Similar to some other woodwind instruments, reduced keywork versions of the flute are available which may suit particularly young learners. Models such as the JP010CH feature a two piece design omitting the footjoint completely. This further reduces the chance of damage when putting the instrument together and makes the instrument even more lightweight. Despite reducing the range of notes that the instrument is capable of playing, for young beginners this usually isn't an issue.
Plastic Models
A relatively new trend within the musical instrument industry, improved plastic instruments are increasingly competing with more traditional materials. A plastic flute may be lighter, easier to maintain and more durable than a traditional nickel silver alloy model. However there are some downsides to consider. Whilst plastic instrument may be more resistant to small dinks and dents, once they crack, it is very unlikely that they can be repaired. Plastic flutes are commonly available in a wide range of attractive colours making them especially attractive to younger children.
---
Your flute's headjoint acts as the mouthpiece for your flute and features the lip plate and riser. Headjoints on student flutes tend to be silverplated nickel silver whereas in more expensive models you may come across 'solid' headjoints which are made from solid silver. Other materials such as grenadilla wood are also sometimes used due to their unique effect on the sound of the instrument.

As has been previously mentioned, headjoints are available in both a curved and straight configuration. Curved headjoints help to support younger players to be able to start playing at a younger age. These are easily interchangeable once the player is old enough to start playing with a straight headjoint. Some models such as the John Packer JP011CH Flute are supplied with both curved and straight headjoints to make this switch over seamless.
The keywork on your flute will either be 'open hole' or 'closed hole'. This describes whether there is a gap in the middle of the keywork. Although open hole models will require a more accurate finger placement to fully cover the key, this enables players more control with certain more advanced techniques such as multiphonics and glissandi. It is common for players to start on a closed hole model as this will encourage swift progression. Keywork plugs can be used to convert an open hole flute to a closed hole model by temporarily plugging the hole in each of the keys.


You may have come across mentions of 'Offset G' and 'Inline G' when browsing different models of flute. This refers to whether the G key is inline or offset against the other keys. Traditionally, 'offset G' models would be associated with student flutes and 'inline G' with professional ones however these perceptions have changed over time. An 'offset G' mechanism provides a more natural, ergonomic hand position improving comfort and reducing the chance of injury such as carpal tunnel syndrome. These days it is relatively rare to find 'inline G' models given the growing popularity of 'offset G' and the comfort they provide.



Finally, you may also come across mentions of a 'Split E Mechanism'. This describes a small bit of mechanism that divides the action of the upper and lower G keys, enabling the lower G key to close when high E is played. The result is a much improved response when playing a high E. In modern flutes, it is becoming increasing rare to find models which do not have a split E mechanism given the benefits that is affords players with little downsides.

Flutes are available with two different types of footjoint, 'C Foot' and 'B Foot'. Although less common, a B footjoint increases the bottom range of the flute by allowing players to reach a low B rather than a low C. The vast majority of student flutes have a C footjoint with 'B foot' models only appearing in more professional standard ranges. Footjoints are easily visually identified by whether they have 2 keys (C foot) or 3 keys (B foot).
Flute material is a common area of debate and discussion between flautists. The material that your flute is made from has a noticeable effect on its sound and playing characteristics although many will argue that quality of design and construction has just as much of an impact. The vast majority of student flutes will be made from a silverplated Nickel Silver Alloy, this keep the cost of the instrument affordable whilst delivering some of the acoustic benefits of silver. Once students require an upgrade, they may notice some models featuring solid headjoints or solid body. This refers to being made from solid silver rather than nickel silver. Although again there is much debate in this area, solid silver models are sometimes described as having a 'brighter' tone.

In professional ranges, flutes constructed from other precious metals can be found. Gold and platinum can be used as well as other materials like Grenadilla wood.
---

Silver Polishing Cloth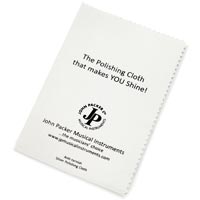 Especially relevant to flautists, polishing and cleaning your instrument with a silver polishing cloth will not only keep it looking pretty but will also protect your instrument from corrosion and erosion. Impregnated with silver polish, this is a must have accessory for all flute players.
View polishing cloths
Gauze Cloth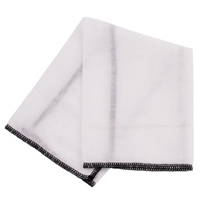 A gauze cloth is an essential piece of maintenance equipment and should be used at the end pf each playing session to remove the moisture that has condensed in the bore of your flute. Don't forget that you mustn't keep the damp cloth in the case with the flute.
View gauze cloths


Flute Cleaning Rod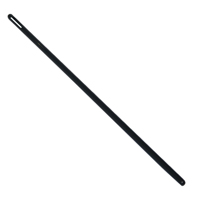 Used in conjunction with a gauze cloth, a flute cleaning rod helps to dry the inside of your flute to keep it in top playing condition. A quick clean after each playing session is suggested for best results.
View cleaning rods



Flute Stand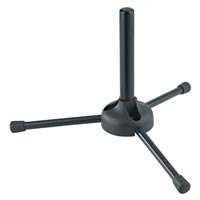 A good quality, sturdy stand is always a useful accessory for any instrument. Whether you are at a performance or at home, putting your flute on a stand will reduce the chance of damage.
View flute stands



Flute Case Cover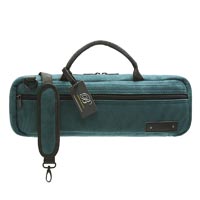 Available in a range of different designs and materials to suit all budgets, a case cover will not only protect your flute case but give you the chance to show off your personality.
View case covers
---
John Packer JP011CH Flute

The JP011CH is a good quality student instrument specifically designed to get a novice player 'off and running'. The instrument has a full keywork system and includes an offset G and split E mechanism giving students all the tools they need to progress to a good level. This 'CH' variant of the JP011 is supplied with both curved and straight headjoints to increase the longevity of the instrument.
View more details

Trevor James TJ10X Flute

The TJ10X is a good starter instrument designed with the beginner in mind. It features closed hole keywork with an E mechanism and C footjoint. This instrument is comfortable for the inexperienced, but also versatile and quite capable of getting the player up into the middle grades. The TJ10x flute is a very free blowing silver-plated instrument which helps the new flute player to learn at a much quicker pace.
View more details
Yamaha YFL212 Flute

The new YFL212 flute from Yamaha replaces the highly successful YFL211 model. While many thought you couldn't get a better a student flute, Yamaha have made some key changes to bring a new and improved student flute to the market. The most obvious new design feature are the pointed key arms on the non-fingered keys, inspired by the traditional European or French design.
View more details
Jupiter JFL-700EC Flute

The Jupiter Model JFL700 closed-hole flute is an excellent choice for the beginning flute player. This series utilizes a high nickel content in their entire flute tubing to produce an excellent sound quality.
View more details
Pearl Quantz 505E-1R Flute

This is a lively and user friendly student instrument with E mechanism and French (pointed) key arms. The Quantz series embodies ingenuity, innovation and diversity, and is totally unique in the flute making industry.
View more details
---
Several schemes are in place to support new players as they start their journey to learn the flute. Our instrument hire scheme enables students to hire a flute at an affordable monthly cost with a low minimum hire period of just 3 months. Should you then wish to purchase your instrument, our hire scheme allows a maximum of 6 months hire charges to be deducted from the overall cost. This is a fantastic way to get started on a limited budget!
Hire a flute

Our Assisted Instrument Purchase Scheme (AIPS) aims to reduce the financial burden of purchasing your first instrument. If students are attending a UK based state school it is usually possible to purchase the instrument through the school benefiting from their VAT exempt status. Students must be in full time education and receiving music tuition. It is possible to combine both our instrument hire scheme and then to purchase the instrument through the school via the AIPS scheme for maximum benefit.
Find out more about the AIPS scheme
---
Our brass department is more than happy to answer any brass related queries that you might have, feel free to contact our sales team via our contact form.