An Introduction to the Piccolo
As a flautist (or anyone sat nearby) you either love or hate the high pitches of the piccolo. If you're in the market for one, what should you be looking for?

Like a flute, a piccolo is pitched in the key of C but it sounds an octave higher. They are mainly used in wind bands, orchestras and flute choirs and are the most popular doubling instrument for flute players being a fraction of the cost of the bigger alto/ bass instruments.
The piccolo can be hard to adjust to at first as the embouchure hole is so small but the more it is played the quicker the progress. Learning the flute first is advisable to secure a good technique and embouchure on the easier lower pitches.
On most starter piccolos you will find a silver lip plate to mimic the shape of a flute and provide some guidance as to where the lip should be placed. A resin body is also easier to maintain and does not react to temperature changes.
Here is a list of student piccolos which have the silver plated lip plate design and resin bodies.
Student Piccolos

Trevor James Vivace by Kurioshi:


https://www.johnpacker.co.uk/prod/trevor-james-vivace-by-kurioshi-c-piccolo

John Packer JP114:
This piccolo features a lip plate made of resin instead of silver plate to produce a darker tone.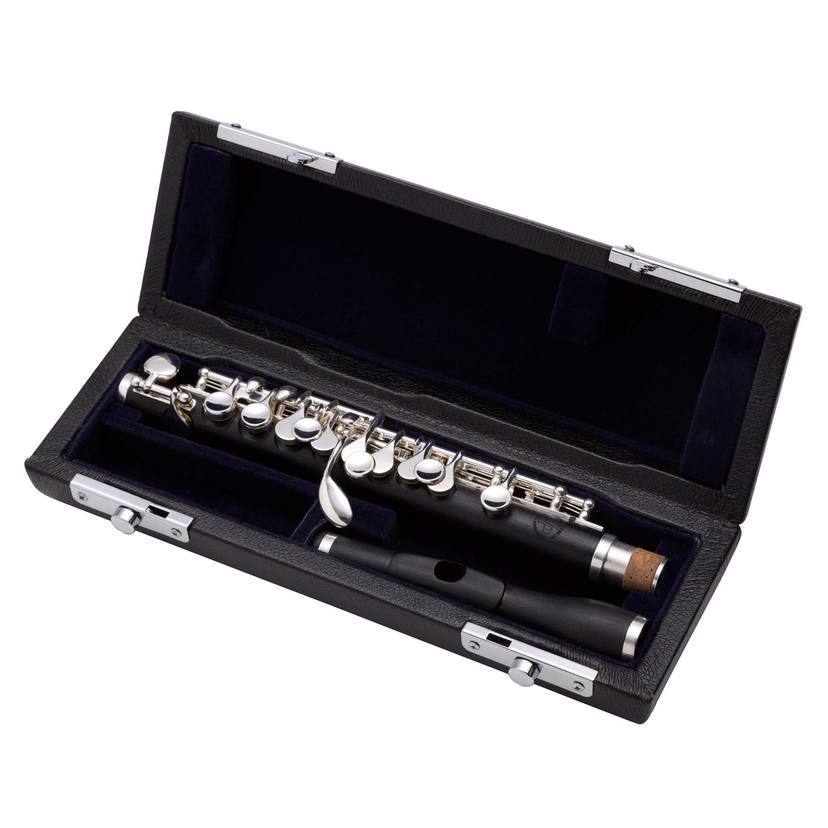 https://www.johnpacker.co.uk/prod/jp114-mkii-piccolo-c-resin-black-sp

Yamaha YPC 32:
The Yamaha is well made and offers a clean and pure sound that is very responsive. This model would be a great step-up from a very starter piccolo.
https://www.johnpacker.co.uk/prod/yamaha-piccolo-c-ypc32-resin-body-sp-head-and-keys

Pearl 105:
A grenaditte head and body (resin). This model doesn't have the lip plate design but features a high-wave design to avoid wastage of air. This model would also be a great option to upgrade to.

https://www.johnpacker.co.uk/prod/pearl-piccolo-pfp-105e
Step Up Piccolos
The midrange/entry level professional range of piccolos then lose the lip plate design and start to be made out of wood. Some of the piccolos have a reform headjoint option, this is a raised wall on the far side of the lip hole to direct more of the wasted air into the piccolo. Professional piccolos are usually fully made of wood. Some models to consider would be;
Pearl 165:
A wooden headjoint on a grenaditte (resin) body. Although it is only a wooden headjoint this piccolo creates a wonderfully warm tone.

https://www.johnpacker.co.uk/prod/pearl-piccolo-pfp-165e-wooden-headjoint

Yamaha YPC-62 or YPC-62R
The 'R' in this model signifies the reformed lip plate. A fully wooden piccolo.

https://www.johnpacker.co.uk/prod/yamaha-ypc62-c-piccolo-wood-head-amp-body-silver-plated-keys

Yamaha YPC-81R:
A professional level wooden piccolo

https://www.johnpacker.co.uk/prod/yamaha-piccolo-c-ypc81r-wood-body
---
Like some more advice? Contact our experienced specialist team on 01823 282386 or email [email protected]