Besson Brass Day - with Tom Hutchinson
Saturday 1st February 2020
Tickets: FREE
Time: 10am - 4pm
Location: TA21 9JF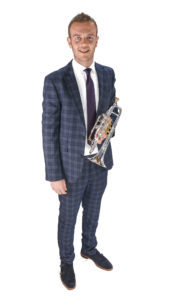 Brass Workshop with Tom Hutchinson

Brass musicians of all ages and ability are invited to a unique brass event hosted by Besson at John Packer Musical Instruments in our Wellington showroom on Saturday 1 February 2020.

Can't make it? Watch it Live on our company Facebook page! Click here

Join Tom Hutchinson - a leading cornet professional - for an all-day event dedicated to improving brass musicianship. The day will feature demonstrations and workshops, including How to improve you tone, Articulation, Ensemble Playing and a Q & A clinic. Participation is not obligatory but we guarantee you will feel inspired to join in, and want to sample the Besson products on display!
Tom Hutchinson is an award-winning Besson artist who has played principal cornet with the Cory Band - the best brass band in the world - for 10 years. During this time Tom has led Cory to multiple competition success in Welsh regional titles, British Opens, European titles and National Finals. Since joining Cory, Tom has travelled the world and also released a solo album In Principal.
Along with band commitments, Tom is a Professor of Cornet at the Royal Welsh College of Music and Drama, Cornet tutor for the National Youth Brass Band of Wales and Cornet tutor for the National Children's Brass Band of Great Britain.
We look forward to welcoming Tom to John Packer Musical Instruments this February - blowing the January cobwebs away and giving brass musicians a boost before regional competitions kick-off.
About Tom:
Tom began learning the cornet at the age of nine before joining his local brass band, Stannington in Sheffield...
His first taste of playing in a championship section band happened aged fifteen, when he joined the Rothwell Temperance Band. During these formative years Tom also played solo cornet with the National Youth Brass Band of Great Britain including two courses as Leader. The Band's Associate Conductor, Dr Nicholas Childs, noticed his talent and later invited Tom to join the world famous Black Dyke Band.
After four years with 'Dyke' and contributing to many contest successes, Tom graduated from the Royal Northern College of Music and was invited to join the Cory Band as principal cornet.
After leading the Cory band in his first year to its hat-trick winning European title in 2010, Tom has since lead Cory to two British Open titles, five Welsh regional titles, four Brass in Concert Championship titles, the European title once again in 2013 and 2016, and three National Final wins.
Since joining Cory, Tom has released a solo album In Principal, and led Cory to its historic Grand Slam achievement in 2016, with the band finishing off the year as the world's No.1 ranked brass band for a consecutive and unprecedented ten years.
Tom is pleased to play a Besson Prestige cornet and represents the brand globally.
About the day:
What you need to know:
This is a free event sponsored by Besson for brass band instrumentalists and trumpeters.
The workshop is for all brass musicians, regardless of age or ability. However, other instrumentalists, or non-musicians are welcome to observe on the day.
Places are limited and need to be booked in advance.
The event will take place on Saturday 1 February between 10am - 4pm at the John Packer Musical Instruments showroom; Summerfield Avenue, Chelston Business Park, Wellington, TA21 9JF.
Sessions on the day will include: How to Improve your Tone, Articulation, Ensemble playing, and a
Q & A session.
We will be recording the event and streaming it live on Facebook.
Refreshments are not included. However, we will stop for comfort breaks throughout the day to give visitors an opportunity to purchase food and drinks from nearby eateries.
WATCH LIVE from our company Facebook Page