Contact Us
Our friendly team of experts are happy to help with any questions so please get in touch
Contact Us
We have been professionally servicing the needs of woodwind & brass players, of all stages and standards, throughout the UK for 40 years. The initial axiom of 'serve as you would be served' has remained a central theme. It is always our intention to act as a friendly catalyst to help a customer with a problem to become a customer without one.
Buying an Instrument from Us
Buying an instrument from us is like joining an exclusive club - it gives you access to all our resources and facilities: huge choice; a wealth of experience; an independent viewpoint; total technical back up and friendly, intelligent and efficient service.
The John Packer Shop
The shop is set in a residential area just a short drive from the centre of Taunton. Parking is never a problem and our prices don't include any extras for exorbitant High St rates. Inside the apparently small premises is one of the largest and most comprehensive collections of quality new and used musical instruments and accessories in the UK. Customers are always welcome to browse and see why we have become one of the largest sellers of woodwind and brass instruments in UK.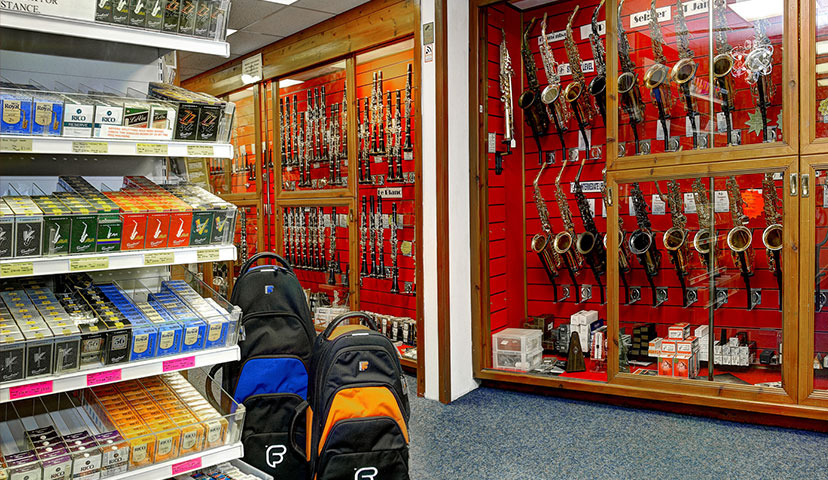 The Reputation
This expertise is at your disposal whenever you walk through our door or call us on the telephone and is part of our policy of ensuring that the customer has access to independent and informed opinion as well as a comprehensive range of instruments and accessories.
These high levels of skill have resulted in our involvement in design consultative work for such companies as Boosey & Hawkes, Schreiber, Trevor J. James & Co., and Yamaha.
The Choice
Our vast selection includes high quality, professionally checked models from novice to professional. Furthermore, we always endeavour to keep a number of each model in stock to ensure that the customer truly has the greatest number of options from which to choose.
Back to top